Dominican Republic: Damajagua Waterfalls
Blog Post - February 11, 2020
We took a cruise to the Dominican Republic and docked at Amber Cove.
We booked the Damajagua Waterfalls Excursion through the Shore Excursions Group.
---
Warning: Don't book this excursion through Carnival. Our friends booked this same excursion through Carnival Cruise Lines, but when they did the excursion they weren't allowed to jump off the platforms. To make it worse, they paid $10 more per ticket and got to do less.
---
We were picked up by a bus from the outside of the Amber Cove Cruise Terminal and went to the Damajagua Waterfalls. We got off the bus and went to the bathrooms to change. We were able to leave our backpacks on the bus, but they do have lockers you can rent too. We then got our life jackets and helmets. Here is a photo of the building with the bathrooms and where you get your lifejacket and helmet:
They gave us all a bottle of water and we headed out on our 30-minute uphill hike. They have a bridge you cross and then take the dirt trail up to the Waterfalls.
About halfway up to the falls, we stopped at a rest area and drank some water.
We finally reached the waterfalls and started jumping in one at a time. The water felt so refreshing after the uphill hike.
As we made our way through, it would go from deep water to shallow water.
The water got deep enough in some areas that we got to swim in the blue water!
We got to the highest jump at 25 feet from a wood platform. This is the view looking down. You can see the splash at the bottom of a member of our group.
In this shot below, you can see me jumping from the 25 foot high platform.
In this photo below, you can see the wood stairs that are available if you don't want to jump.
We then got to slide down the natural rock water slides.
Then we got to a waterfall that had both a slide and a jump. They had a ladder that allowed you to climb back up so you could try out both.
We reached the last rock slide. The water is so beautiful at Damajagua Falls!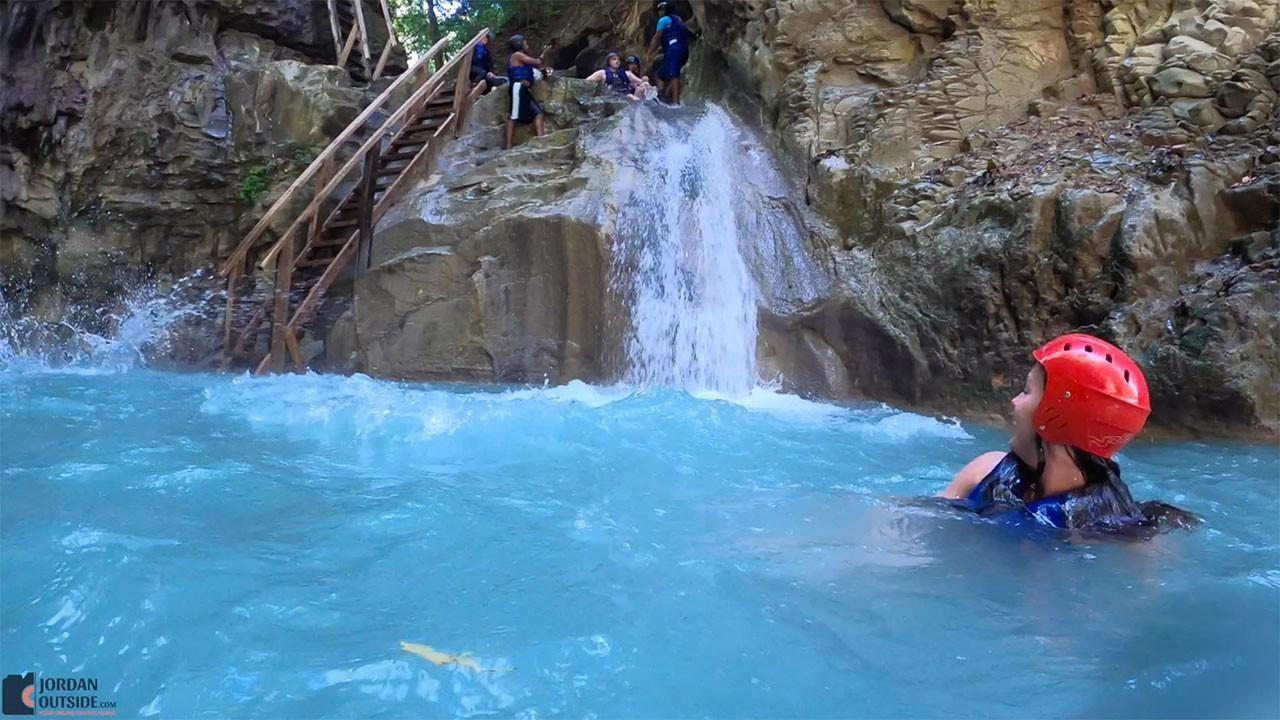 The hike back took about 15 minutes. We walked through some small streams.
As we got back to the parking lot where our van was parked, there was a whole herd of cows passing by.
Overall, Julie and I had an amazing time at the Damajagua Waterfalls Excursion and would do it again! We highly recommend booking your excursion through the Shore Excursions Group.
We booked our excursion through Shore Excursions Group for $79 per person.That is a total of $158 for Julie and me.
We also paid a $5 tip for each of our guides and $2 for our bus driver. That came to $17 in tips.
Total Cost = $175
These are the things that I recommend you bring:
Sunscreen
Cash to tip your guides and bus driver.
Cash for a locker if you're not going to leave your belongings on the bus.
Cash to buy images and videos if you're not going to film your own.
Go Pro 3-Way Grip to hold the camera out in front of you.
Want to share your own travel experiences?
Build your own travel lifestyle Website using the same all-in-one platform that I use.
Host your Website, Build Your Courses, and Accept Payments with Kajabi!
GET A FREE TRIAL OF KAJABI